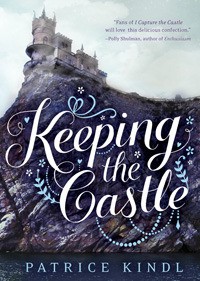 3.5 stars.
Althea Crawley (Mmmmm, wonder where Kindl thought up
that
last name?) must marry. And marry well.
It's very fun, charming, lighthearted and a fast read. Almost a satire of the marriagemoney situation that occurred back in the day. When financial troubles loomed on the horizon, it was usually up to one of the daughters to marry well. That is, to marry money. Probably not literally, though.
Having seen MANY adaptations and original period dramas; imagining the imagery of this book was not hard. I could envision the fashion and the hair. The houses and Crooked/Crawley Castle. The setting by the sea.
It reminded me of Pride & Prejudice, Emma, Sense & Sensibility, Downton Abbey (a bit) and Sorcery & Cecelia (or The Enchanted Chocolate Pot). Though it was not as good as any of them, (nor did Mr. Fredericks live up to Darcy, Knightley, Ferris, Matthew Crawley, James or Thomas) in my opinion, it had a charm of it's own and I can honestly say that, should I come across this book at a time in my life where I can spend money freely, I wouldn't mind adding it to my collection.
The characters were nothing stellar but I liked them and their personalities.
I really liked that the mother was nice and not overbearing at all. That was a pleasant change.
The romance was light.
When Althea is pondering why she feels so very oddly about Mr. Fredericks marrying Miss Vincy, it reminded me strongly of "Emma" and that same dilemma with Mr. Knightley and Harriet. (Of course, both Althea and Emma were quite mistaken about Mr. Frederick's and Mr. Knightley's affections.)
I was quite happy that Althea was willing to marry Hugh even before he told her he was a bajillionaire. That was very sweet esp. considering Althea's goal at the beginning of the book.
I wish we might have a seen a bit more of how much Althea and Hugh really cared for each other but as that aspect was not really the point of the book; it didn't upset me terribly.
I never thought about abandoning this book for a different one, unlike many of my recent books.
I noticed a rather glaring typo. On page 29, Instead of "Prudence", the name used was "Penelope". They were quite clearly referencing Althea's half sister. Sad, really.
Overall, I am happy I read it. Very charming and, after the run of books I've had lately, I needed that. Would re-read in future.
Nothing objectionable.